[Blog Tour] The Adventures of Cinnamon Girl by Melissa Keil: Review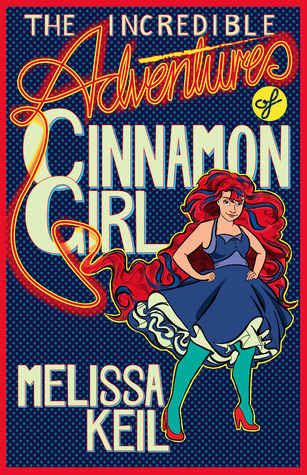 Author: Melissa Keil
Release date: September 1st 2014
Publisher: Hardie Grant Egmont
Series: N/A
Age Group: Young Adult
Genre: Contemporary Romance
Alba loves her life just as it is. She loves living behind the bakery, and waking up in a cloud of sugar and cinnamon. She loves drawing comics and watching bad TV with her friends.

The only problem is she's overlooked a few teeny details:

Like, the guy she thought long gone has unexpectedly reappeared.
And the boy who has been her best friend since forever has suddenly gone off the rails.
And even her latest comic-book creation is misbehaving.

Also, the world might be ending – which is proving to be awkward.

As Doomsday enthusiasts flock to idyllic Eden Valley, Alba's life is thrown into chaos. Whatever happens next, it's the end of the world as she knows it. But when it comes to figuring out her heart, Armageddon might turn out to be the least of her problems.
(via Goodreads)
A copy of this book was lent to me by Pinoy Book Tours. This however did not influence my opinion of the book or of the author in any way.
Review
I was hesitant to read this one as I am not a fan of comics. Still I took the risk as I am curious as to how Alba would find her way through the chaos around her.
Alba is definitely an artistic and creative character. It was not hard for me to relate with her as I was once in her shoes, trying to find her way in. While everyone around her was busy planning for college and trying to survive doomsday in her town, she was reluctantly ignoring the facts that surround her. Like how everyone was not staying at one place, how some people were trying to run from a hoax doomsday, how her life was not getting any easier, how her best friend Grady was slowly pulling away from her, how her friend Daniel suddenly came back and how she was oblivious to what she really wants. Although I think for the most part, she totally knew what she wanted. She was just scared to accept it as it would be life-changing for her. Thankfully, there were characters around her to make her realize that it's all worth it. These minor characters are absolutely a joy to read about. Especially Grady. I thought at once there would be a love triangle but I realized that Daniel was no match for Grady.
Sure enough, the comics references in the book were not familiar to me, not even an inch close. Though I've heard some of the titles, I still did not get the hype or the excitement when the specific comics was mentioned. I may have not connected with Alba through her love of comics but I sure did enjoy when she was making her own. I had a vivid imagination as I was reading about her making her comics. It was fun to see how her story started as to nothing and ended up to something more than just a couple of pages and drawings.
The Adventures of Cinnamon Girl is a delightful light read that anyone will enjoy. Comic-lovers probably will enjoy this more. Nevertheless, get lost into the world of Alba and her chaotic world.
About the Author
Melissa Keil was born in Melbourne, Australia, and has been a giant book nerd for as long as she can remember. She studied Cinema and Anthropology at university, and then spent a few more years dabbling in graduate study, including Professional Writing and Editing. In between she has been a high school teacher, Middle Eastern tour guide, waitress, community theatre dogsbody, and IT help desk person (hands down, her most unsuccessful job to date). Now, by day, she is a children's book editor, and spends the rest of her time reading, writing, buying comic books, watching YouTube, and wrangling a cheeky spoodle named Hugo. Her debut YA novel, Life in Outer Space, was the winner of the 2013 Ampersand Project. It's a young adult romantic comedy that combines some of her many loves – movies, music, karate, the Astor Theatre, Star Wars, and all things geek. Life in Outer Space was the recipient of the 2014 Ena Noël award, and was shortlisted for the 2014 CBCA Book of the Year (Older Readers). Her second YA novel, The Incredible Adventures of Cinnamon Girl, will be published in 2014.