[Blog Tour] Plus One by Elizabeth Fama: Review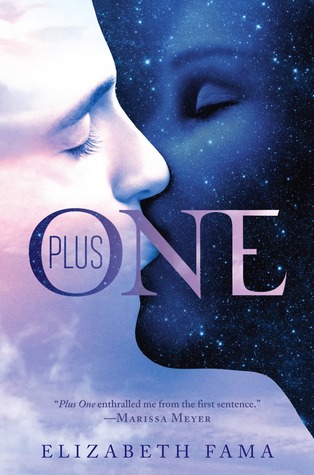 Author: Elizabeth Fama
It takes guts to deliberately mutilate your hand while operating a blister-pack sealing machine, but all I had going for me was guts.

Sol Le Coeur is a Smudge—a night dweller in an America rigidly divided between people who wake, live, and work during the hours of darkness and those known as Rays who live and work during daylight. Impulsive, passionate, and brave, Sol deliberately injures herself in order to gain admission to a hospital, where she plans to kidnap her newborn niece—a Ray—in order to bring the baby to visit her dying grandfather. By violating the day-night curfew, Sol is committing a serious crime, and when the kidnap attempt goes awry it starts a chain of events that will put Sol in mortal danger, uncover a government conspiracy to manipulate the Smudge population, and throw her together with D'Arcy Benoît, the Ray medical apprentice who first treats her, then helps her outrun the authorities—and with whom she is fated to fall impossibly and irrevocably in love.

Set in a vivid alternate reality and peopled with complex, deeply human characters on both sides of the day-night divide, Plus One is a brilliantly imagined drama of individual liberty and civil rights—and a compelling, rapid-fire romantic adventure story.
(via Goodreads)
A physical copy was lend to me by Pinoy Book Tours
in exchange for an honest review. This however did not influence my opinion of the book or of the author in any way.
Plus One was very much recommended by Dianne of
Oops I Read A Book Again
. That's why I was so excited to get lost in the world of Plus One.
This one has far by the most unique setup for a novel. I'm still debating with myself if this one is a Dystopia or a Sci-Fi. Honestly, I don't know. Yet the mere divide of the
Day
and
Night
is a strong ground that this one is indeed Dystopia. Either way, the world-building was just a t
iny little bit
lacking for me. How can the world just exist wherein people was chosen to be in the Day or Night world? It was explained how the world became like that as the story went on. But
personally
, I cannot just think that people will actually allow other people to get a hold of their lives, to be told on what part of the day they'd be living in. I assume they did some revolt or anything? They should have resisted at first. Maybe the higher officials were that much powerful too. I don't know. That's the only issue I had with this. I hope that we'd know more about their world in the sequel.
Sol was one hell of a heroine. She was only trying to do something sweet for her grandfather which led her to a lot of things. I'd be honest that she was a little annoying for all the attitude she threw upon other people. Especially with her brother, Ciel. I swear I want to slap her for being a little bitch to him. How can she not trust him like that? Then again, Ciel had his own faults and I cannot blame Sol for hating him anyway. It was actually the best thing that happened to Sol. She was able to grow as a person since her brother was taken away from them. She learned to be independent, though I guess too independent for the ways she acted. Still, at least she was able to learn how to live.
Meeting D'Arcy was one of the most enjoyable moments I had reading this. He was such a snob given that he was a Day Boy. His character really made sense to me. He was able to portray how Day people should be. Arrogant and all. Though deep inside, he was such a softy. I just want to hug him is all.
Sol and D'Arcy's relationship grew from such an unexpected situation. I love how their characters were so different yet they found a common ground. Ugh, they were just cute, okay.
Of all the minor characters, Gigi is my favorite. Don't ask me why. Her character was compelling. You know that there was more behind the make-up and yet you can't figure out what. Oh, and her sense of loyalty? Damn, she definitely broke the standards for that. I'm hoping to see her in the sequel as well.
The secrets and the lies that were built upon Sol and D'Arcy's separate lives were quite disheartening? If I were in their shoes, I wouldn't know what to do. The way those two handled it were inspiring. They handled it like they were adults and not just a Day Boy and a Smudge.
Towards the end, some decisions were made. I guess that all along the novel, that kind of ending would happen. It just makes sense for Sol to actually step up and be the heroine that she is.
Plus One is a terrifying sort of YA romance novel. Fast-paced, thrilling and romantic all the same time.
P.S. I gave it 5 stars because that's just how awesome it is. Despite my issue for the world-building, I felt like it didn't much matter to me at all while reading till the end of the novel. I even forgot that I had that kind of issue at hand. But yes, I still love it all the same.
Elizabeth Fama is the author of Plus One (FSG, 2014), Monstrous Beauty (FSG, 2012), a YALSA Best Fiction for Young Adults selection and Odyssey Award honor winner, and Overboard (Cricket Books, 2002), an ALA Best Books for Young Adults. She is represented by Sara Crowe of Harvey Klinger, Inc.