E-ARC Review: Boys Like You by Juliana Stone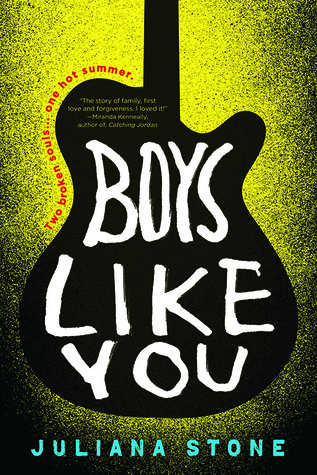 Release date: May 6th 2014
Genre: Contemporary Romance
One mistake.

And everything changes.

For Monroe Blackwell, one small mistake has torn her family apart –leaving her empty and broken. There's a hole in her heart that nothing can fill. That no one can fill. And a summer in Louisiana with her Grandma isn't going to change that…

Nathan Everets knows heartache first-hand when a car accident leaves his best friend in a coma. And it's his fault. He should be the one lying in the hospital. The one who will never play guitar again. He doesn't deserve forgiveness, and a court-appointed job at the Blackwell B&B isn't going to change that…

Captivating and hopeful, this achingly poignant novel brings together two lost souls struggling with grief and guilt – looking for acceptance, so they can find forgiveness.
(via Goodreads)
I received an e-copy of this from Sourcebooks through NetGalley
in exchange for an honest review. This however did not influence my opinion of the book or of the author in any way.
.
Review
What really constitutes a mistake? Is it the irresponsibility of the person blamed? Is it the guilt of that person? Is it only considered one when something bad happens to another person? When does a mistake is actually just an accident? These were the questions raised while I was reading Boys Like You.
It's pretty much a usual occurrence in the literary space that two (somehow) broken people attract each other. I honestly think that it's because of the same experience they went through. It connects them in a much deeper way since each of them can actually understand what the other is going through. So it's no surprise to me when Monroe and Nathan hit it off. It was all there. The attraction. The connection. I enjoyed how their relationship escalated from two estranged people to this bonded pair.
Their mistakes were just entirely incidents. For me, anyway. Monroe blamed herself because at some point, it was really her fault. I'm not blaming her but when you know the situation, it'll occur to you that, 'Hey, that's kind of her responsibility.' But then it is not just her responsibility at all. Yet Monroe thought otherwise since she can never undo it and it will never be the same. Though it's not the same for Nathan. People can blame Nathan all they want because that's how we human beings are. We have to point at someone so we'd have this power over the situation. We cannot just believe that it happened for what it was. So Nathan kept on blaming himself of course. The only edge he had with Monroe was that he can still have that faith that it will change. I felt more scared for Nathan's situation. With Monroe's place, at least you know already that it's done. While with Nathan's, you still have that little hope that everything will be okay. And it's hard not to hope but it's harder to hope because of that tiny bit of chance.
As much as I enjoyed Monroe's and Nathan's budding relationship, them overcoming their pasts and making amends with their futures, I just didn't have that connection with them. Despite the deep connection between the two of them, I didn't feel their characters in a deeper sense. I had a hard time being with them as I was reading the novel. I just didn't feel their emotions.
Whether it's a mistake or an incident, all that matters is that you forgive yourself. Boys Like You will show you how it is to overcome it with the help of the people around you.
About the Author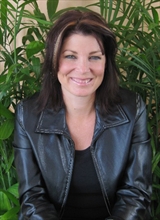 Juliana Stone fell in love with her first book boyfriend when she was twelve. The boy was Ned, Nancy Drew's boyfriend, and it began a lifelong obsession with books and romance. A tomboy at heart, she split her time between baseball, books, and music-three things that carried over into adulthood. She's thrilled to be writing young adult as well as adult contemporary romance, and does so from her home somewhere in Canada.